---
Liz's Letter
Hi there,
You're tired. What you're doing right now—working or job searching during a pandemic—is exhausting. You're continually beat down, whether by the media, your colleagues or boss, or someone with an opinion and a social media mouthpiece. You may look around at those piling on and wonder,
If I'm dead to you, why are you at the wake?
Taylor Swift fans recognize these lyrics from her new album, folklore, but I'm thinking about them in the context of higher education. There's some serious schadenfreude happening as campuses struggle to contain the virus. Lots of "I told you so" and "you're doing it wrong," particularly from people without any skin in the game or the multi-faceted pressures of leading a campus.
I won't preemptively dance on the grave of institutions, their leaders, or our industry. For sure, we're in crisis. Some of you won't make it through without drastic changes, or at all. But out of loss, failure, and dare I say—desperation, rises innovation. Campuses—and the entire industry—need to rebuild trust with students, families, alumni, staff, governments, and communities while they rebuild the very essence of what they are and how they operate.
As you face the unenviable task of leading or supporting a campus through this pandemic, I want to help. My team wants to help. We offer empathy. Both our personal empathy as you tackle challenges you never anticipated, and our social listening services to help you and your institution develop more empathy for your community.
Empathy is not a buzzword. I believe it will drive the reinvention of our industry. If we build higher education around the learner, rather than institutional tradition, we'll see positive change. We'll see increased public trust. We'll see a future everyone wants to be a part of.
You're not dead to me. While tired, I know you're very much alive and kicking. We'll get through this together.

---
Lessons Learned from Our Industry Briefings
Stories Matter
For 10 weeks this spring, we analyzed millions of online conversations about higher education and the pandemic (read it all here). Throughout the summer and fall we're sharing some of the lessons learned from that research.
Mister Rogers said, "Look for the helpers. You will always find people who are helping." A timely reminder during a pandemic, because often the helpers are on your campus—researchers, public health professionals, and students.
In March and early April, the dominant emotion from students' family and friends was sadness. That changed in late April, which coincided with the switch of many campuses sharing stories, rather than only campus closure updates. La Salle University was early, profiling an alumnus who used 3D printers to create PPE. Caldwell University shared stories of alumni from its highly regarded nursing programs on the front lines of the pandemic response. Social shares of that story included the mayor of Flagstaff, Arizona—her cousin was profiled.
Stories matter in a prolonged crisis.
Journalists have a way to talk about your brand that reflects your mission.
Prospective and admitted students can get a "feel" for your brand even if they can't visit campus.
Faculty, staff, and students can share their community pride.
Alumni get a chance to contribute to the conversation.
In our briefings, we found alumni were less likely to contribute to the conversation than students, family/friends, and even prospective or admitted students. It made sense; they're less impacted by everything that's happened than those audiences. Stories give them a chance to engage with their alma mater during a tenuous time. We saw this both in comments on and proactive shares of campus storytelling. We know when an alum feels connected to or identifies with their alma mater, they're more likely to give. Alumni connection can be cultivated even in times of crisis through effective, timely storytelling.
As the pandemic continues, don't forget to find and share your bright spots. Build and maintain relationships with key colleagues (e.g., department heads, student affairs administrators, faculty members). Deliberately carve out a digital space to share examples of campus strengths and excellence. Push out positive news framed in the context of the ongoing global pandemic to improve your chances of media coverage.
---
More to Social Media Reporting than Engagement
By Analyst Reed Scherer
How do we measure social media?
Being a social media manager can be a tough role; creating enough content while maintaining a positive relationship with your online network is a heavy task. Social media itself is so abstract and seemingly limitless, being able to quickly and accurately measure a brand's or organization's online performance is essential to tracking progress and maintaining a proper image.
Traditionally, social media performance is measured in very simple terms: engagement. This might include number of followers, likes/favorites, retweets, comments, etc. Quantifying these ideas is a great approach to both comparing your own audience to that of other organizations and having a benchmark to compare current to past performance.
But what is the true value of social media?
In other industries, a dollar is worth a dollar, and every product in a store has its price. The realities often missed tracking engagement is that not every online mention is created equal, not every social media follower will be engaged, and not every retweet reaches a sizable audience. So why treat them as equal? Social media appears shallow and simple when measured using quantitative figures. Social listening, on the other hand, identifies key voices and important areas of conversation that 1) would never be recognized using traditional engagement metrics, and 2) contribute to impact-driven decision making. In many cases, we see that one-off mentions from smaller accounts, or even anonymous individuals, can provide more insight than larger mentions that initially rise to the top.
How can we find this impactful conversation?
In the case of higher ed, let's look at enrollment and admissions. A quick search on a social media management platform, filtered by admissions-related words and phrases, would produce an easy-to-digest list of content relevant to you. Your options from there would be to manually scroll through these mentions, or to summarize them using engagement statistics, maybe pulling out a few pieces of conversation that stand out. In this case, what types of mentions would rise to the top, strictly based on follower count, likes, retweets, and comments? Most likely they would be related to admitted students as opposed to prospective students, or related to athletic commitments.
A secondary approach using social listening would be to segment our mentions based on the audiences we're most interested in. This could mean temporarily excluding student athletes and admitted students to focus on prospective voices on forums discussing application struggles, financial aid concerns, or even competitor institutions. Or segmenting only by admitted students to congratulate them in real time on their acceptance.
There's more to social media reporting than just engagement. Often, the voices and ideas driving conversations are more interesting and valuable than how many followers a poster may have. Reporting can certainly be driven by numbers, but it's the qualitative side that drives impactful conversations about what data is really telling us.
---
Hot Off the Press
Ever thought to yourself "That social listening is super cool—but I don't see how it can help me?" No need to be shy about it; we've heard this straight from some of you. And we listened! We're excited to share our completely revamped services pages. Explore common campus goals like brand research and analysis, audience engagement, campus growth, or getting the lay of the land. And see the power of social listening through real-world examples and stories from some of our clients. (You might notice a different look; it's a preview of more to come!)
---
Content We're Consuming
Campus Influencers Part of MU's Plan to Spread COVID-19 Safety Messaging—The University of Missouri is using student ambassadors to promote pandemic-related safety messaging to the campus community, encouraging students that they can have fun while keeping campus safe and accessible.
Digital Leadership in Higher Education—Dr. Josie Ahlquist's #1 New Release book is available today! The book uses research, practical examples, and active reflection to help higher ed leaders discover the real-life ROI of social media. As a proud sponsor of Josie and The Podcast, we can offer discount code DLHE30 when you purchase through Stylus for 30 percent off + free shipping (expires 12/31/20).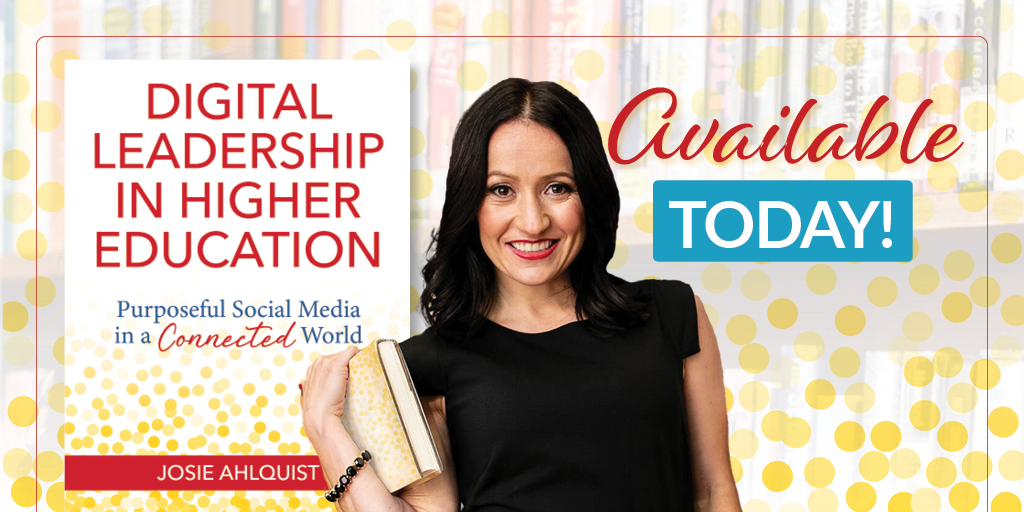 Fundamentals of Social Media Strategy: A Guide for College Campuses—Speaking of books...we're on a mission to help higher ed social media managers approach their work strategically, and persuade their bosses to recognize the value and impact of their work. Our new book does just that, offering strategy, research, and best practices for social media managers. Sign up to receive your early release copy of Volume 1 in mid-October.
When Student Influencers Catch COVID-19—Two student influencers at Baylor University recently tested positive for COVID-19. Thanks to their relationship with the university and in the campus community, their response was supportive of pandemic procedures.
Liz Gross on The Servant Marketer—Liz is a guest on Jenny Petty's new podcast The Servant Marketer, sharing lessons she's learned since starting Campus Sonar, the importance of context, and how one of our most successful inbound marketing campaigns started.
---
From the Blog
This month Research Manager Amber Sandall completed her series on how we conduct social listening research and we learned how UCF gets the most out of their ambassador program. Read more on our blog.
---
See Us or Book Us
We hope to see you at an upcoming virtual event!
NACAC Virtual Conference: Visit our virtual booth to get our admissions toolkit and chat with Steve or Nicole about social listening!
HighEdWeb: Next month, Liz will share five essential documents for a strategic social media program. Catch her HighEdWeb presentation and watch for Fundamentals of Social Media Strategy: A Guide for College Campuses—

our new book out this year

on how to manage social media in higher education.
AMA Higher Education Marketing Symposium: In November, Liz will present the latest innovation in brand research by sharing how multiple campuses have used social listening to more deeply understand their brand.
If you're looking for an industry expert to speak at an upcoming event or lead a workshop, check out our current speakers, common topics, and pricing.
---
Tell Us What You Think
Brain Waves Newsletter is for you—help us shape it. Send us an email to share what you think, suggestions, or what would help you do your job better.